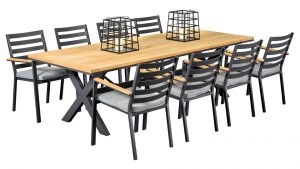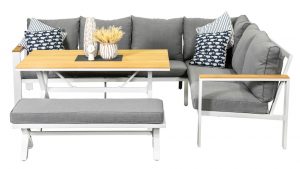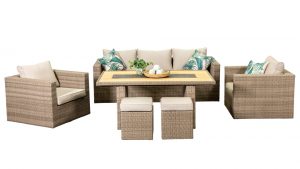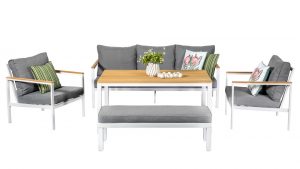 Care & Maintenance for Teak
Teak is a timeless, low maintenance option for all outdoor furniture. It is a tropical hardwood with a beautiful golden-brown colour when it is new. Over time, as natural teak is exposed to the elements, it gradually changes colour from the honey colour of new teak to a silver-grey patina which distinguishes finely aged, outdoor teak. After a while this silver-grey patina deteriorates to a dark-grey and greenish look if it remains untreated.
Depending on the environment, natural greying and/or weathering may become noticeable after only a few weeks. In drier climates teak will take several months to weather. If teak is exposed to infrequent moisture, the colour will fade slowly with minor decolourisation. In moist climates, where furniture is subjected to regular dew and sunshine, teak & hardwood outdoor furniture will weather more quickly. As the timber dries out it may crack. This is perfectly normal and is part of the aging process of the Teak.
The teak is raw on arrival, and requires care and maintenance to maintain its Integrity.
For all care and maintenance of Teak we recommend Golden Care Teak Range.
For arrival of all new teak
please use
Golden Care Cleaner &  Golden Care Shield
On Arrival and PRIOR to any use.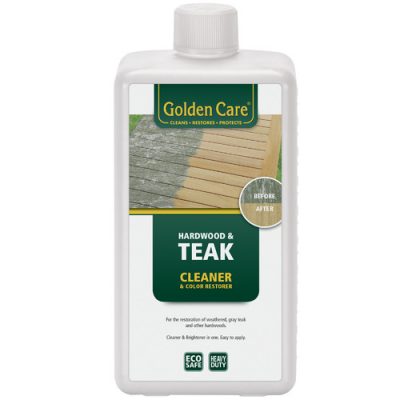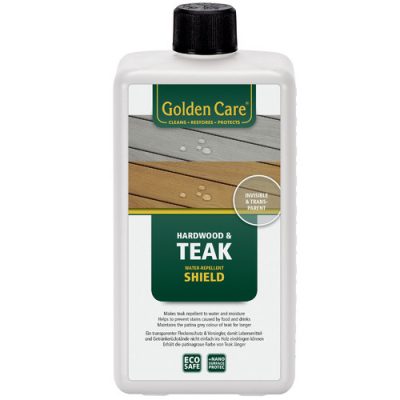 The cleaner will remove any natural oils and allow the shield to penetrate correctly. The Shield is an  almost invisible wood impregnator makes it difficult for water, wine, olive oil or butter to seep into teak. It helps to prevent stains while keeping the natural look of the surface. For any spillage please wipe promptly. Should any staining occur, they can be very lightly sanded out, or they will dry out over time.  Allows moisture vapour transmission. With built-in Mould & Mildew inhibitor, it also maintains the beautiful patina grey teak colour for longer. The cleaner and shield  is to be reapplied every 6 months.
For a quick clean in between applications please wipe with a warm damp non abrasive cloth only.
Please ensure covers are in use for full exposure, and remove regularly for cleaning.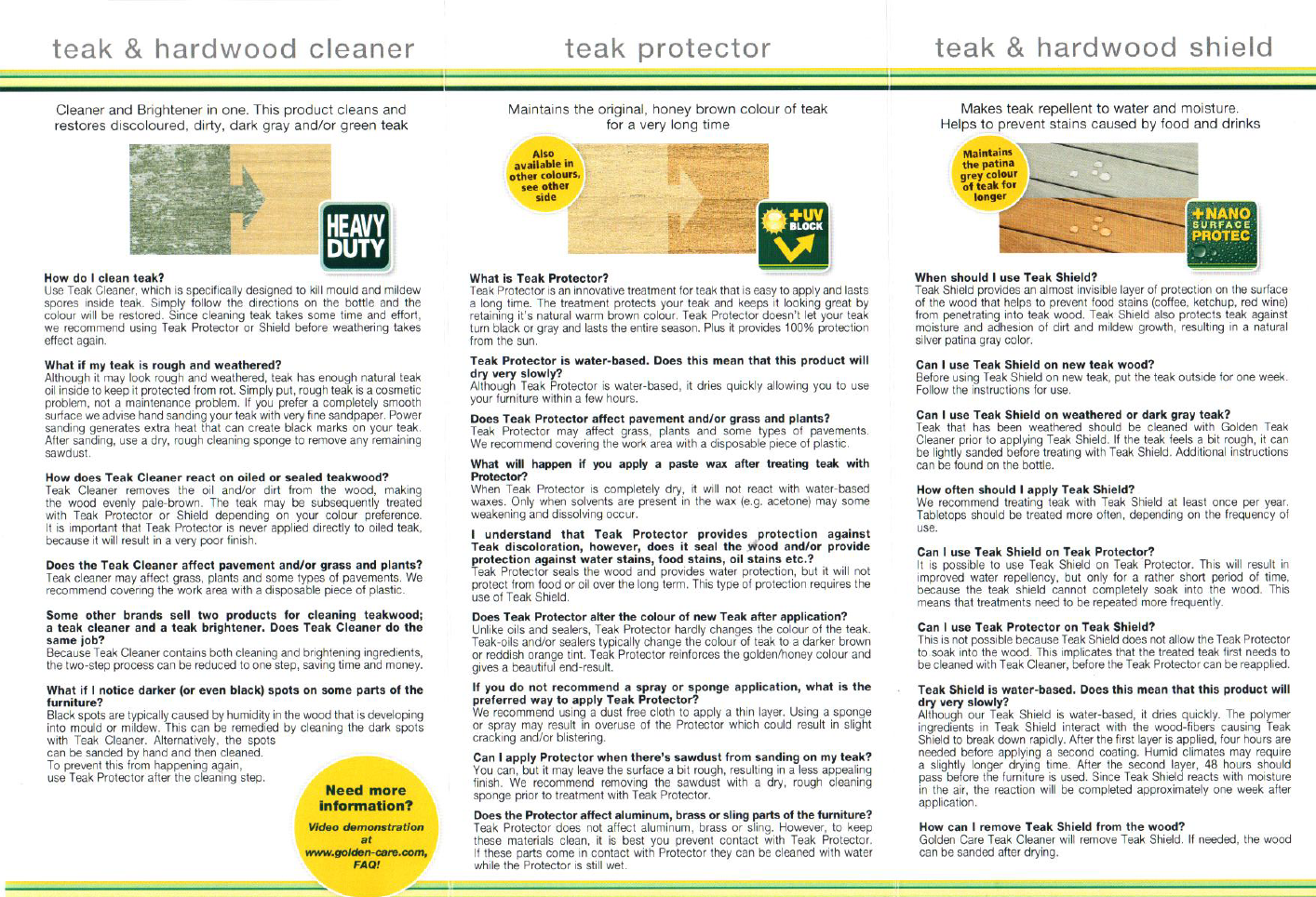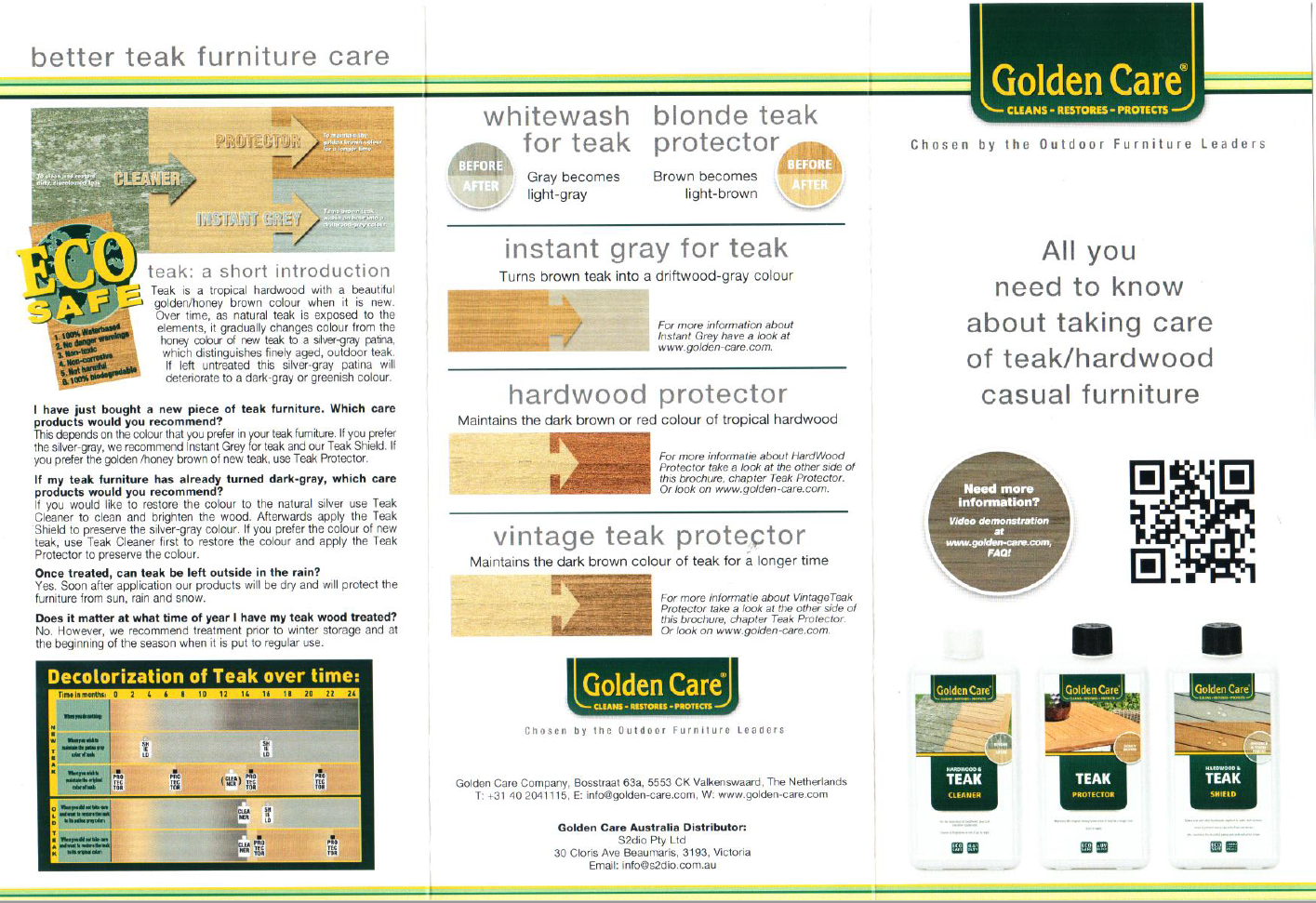 Segals stock both plantation teak and recycled teak. Recycled teak tables are made from 100% recycled teak. Old infrastructure and buildings utilise the original teak found within those structures. The materials are salvaged and pass the material through a series of processes to make it suitable for outdoor use at the same time reducing the depletion rate of valuable forest resources while investing the reclaimed teak with renewed life. Each table is unique and will vary from the display model or pictures, this adds to the rustic feel. Tables may putty filler covering removed nails and some patched panels.
Failure to maintain teak as directed will result in damage that is not covered under the warranty of the goods. Limited 1 year warranty unless otherwise stated. Warranty excludes surface cracking, cupping or staining of timber.
If transitioning from a previously used product (such as Gillys Restoring Polish)  please use the Golden Care Cleaner to prepare the surface and the Golden Care Shield to protect as prescribed.